Products You May Like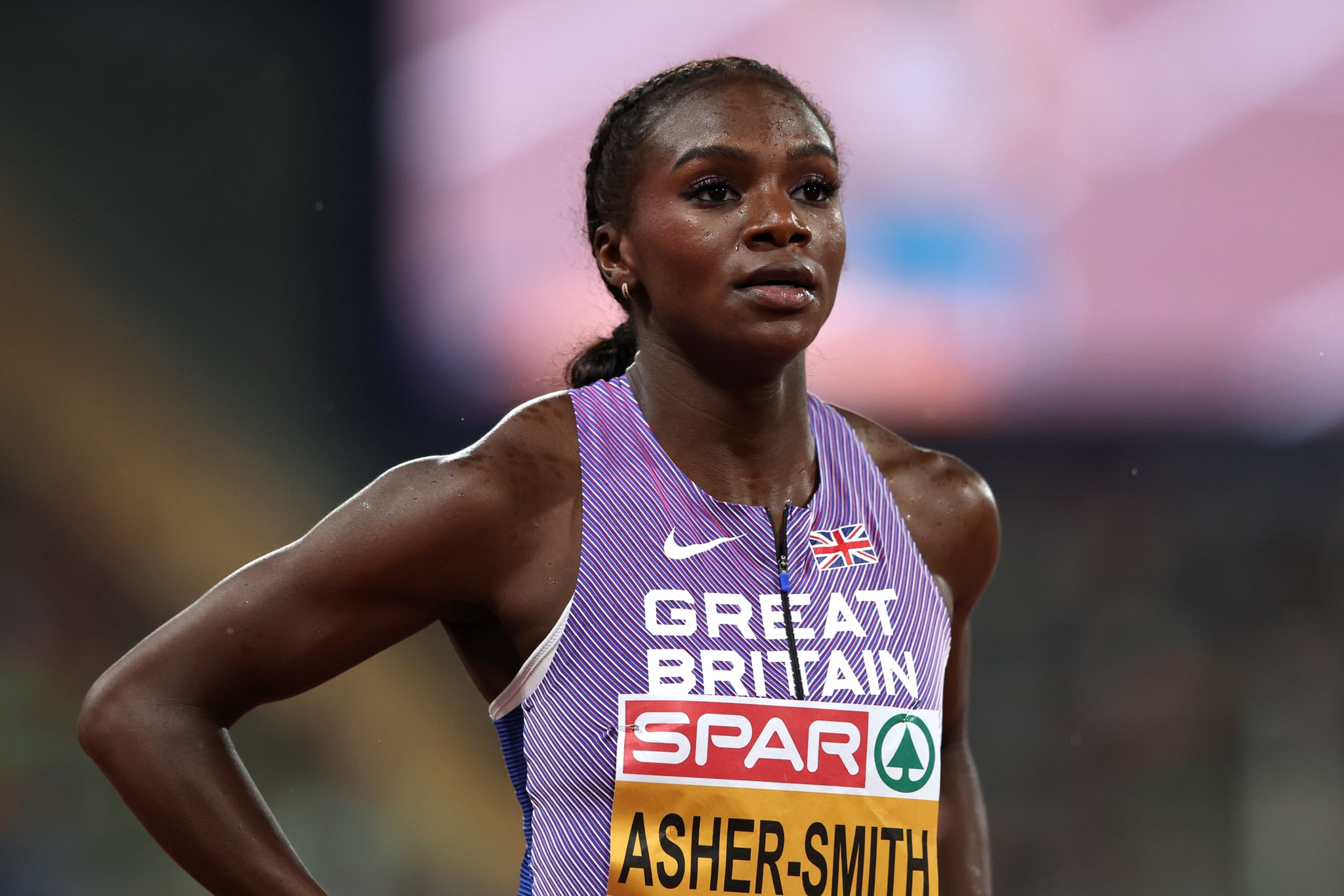 Image Source: Getty / Maja Hitij
On Tuesday, at the European Championships in Munich, three-time European gold medalist and Olympic contender Dina Asher-Smith suffered cramps in both her calves during the women's 100-meter final, spoiling her chances of snagging a medal. After limping off the track, Asher-Smith told BBC Sport she thought the cramping was due to "girls' stuff" (i.e., menstruation) rather than dehydration or poor recovery.
"It is a huge topic for women in sport," Asher-Smith said. "Sometimes you see girls who have been so consistent have a random dip, and behind the scenes, they have been really struggling."
The 26-year-old is the fastest British woman on record. At just 19, she smashed the British record during the London Anniversary Games and became the first woman to run 100 meters in less than 11 seconds — but even she isn't immune to the effects of having a period.
It's true: the changes that happen in the body throughout the menstrual cycle absolutely do affect fitness performance. For instance, "some women do get very fatigued from their period and maybe even anemic," gynecologist Alyssa Dweck, MD, previously told POPSUGAR. In a report published in the Journal of Women's Health and Physical Therapy, researchers acknowledged that "the menstrual cycle has unique physiological and psychological effects on athletic performance. Fluctuations in sex hormones and symptoms of the menstrual cycle may impact one's ability to train and compete." Further, the report found that your menstrual cycle's phase also impacts strength and endurance: "Muscle contractions were significantly higher, more forceful, and less fatigable during the follicular phase than during the luteal phase." (The follicular phase is from the first day of your period until ovulation, and the luteal phase is between ovulation and the start of your next period.) And while this information seems useful, there's still so much we don't know.
In fact, menstruation has been called "the last great taboo in women's sports," because while many women athletes' performances and training are influenced by their periods, it's not widely talked about or studied. In an interview with NBC Sports, Dr. Natalie Brown — who researches menstruation's impact on sports performance and participation — said, "It's really common for athletes not to talk about their periods, and almost just deal with it as something completely separate from their athletic performance." But in her research, Dr. Brown found that despite many women feeling impacted by their periods, "they didn't communicate with their coaches or speak to them about that."
Asher-Smith's recent race points to not just the individual performance repercussions of menstruation but also the wider factors affecting women in professional sports. Research on women in sports is lacking in general. In an interview with Outside, Audrey Bergouignan, physiology researcher at the University of Colorado at Denver and the French National Center for Scientific Research, said: "Males were predominantly the ones conducting the research and in the position to make decisions about policy and research design." The result? Women are left out of studies, and athletes are left wondering how to account for their periods during training and competitions.
Olympian Lolo Jones, who spoke publicly about her decision to seek fertility treatments at age 40, told NBC's "On Her Turf" that "I've been to three Olympic Games, I've competed for over 15 years, and I have no idea the effect of my period on my practice or performance." This lack of knowledge is a serious oversight in sports medicine, and Asher-Smith called on the industry to pay more attention to the needs of women athletes.
"It is something I think more people need to research from a sports science perspective," Asher-Smith said. "It could do with more funding, because if it was a men's issue, we would have a million different ways to combat things."