Products You May Like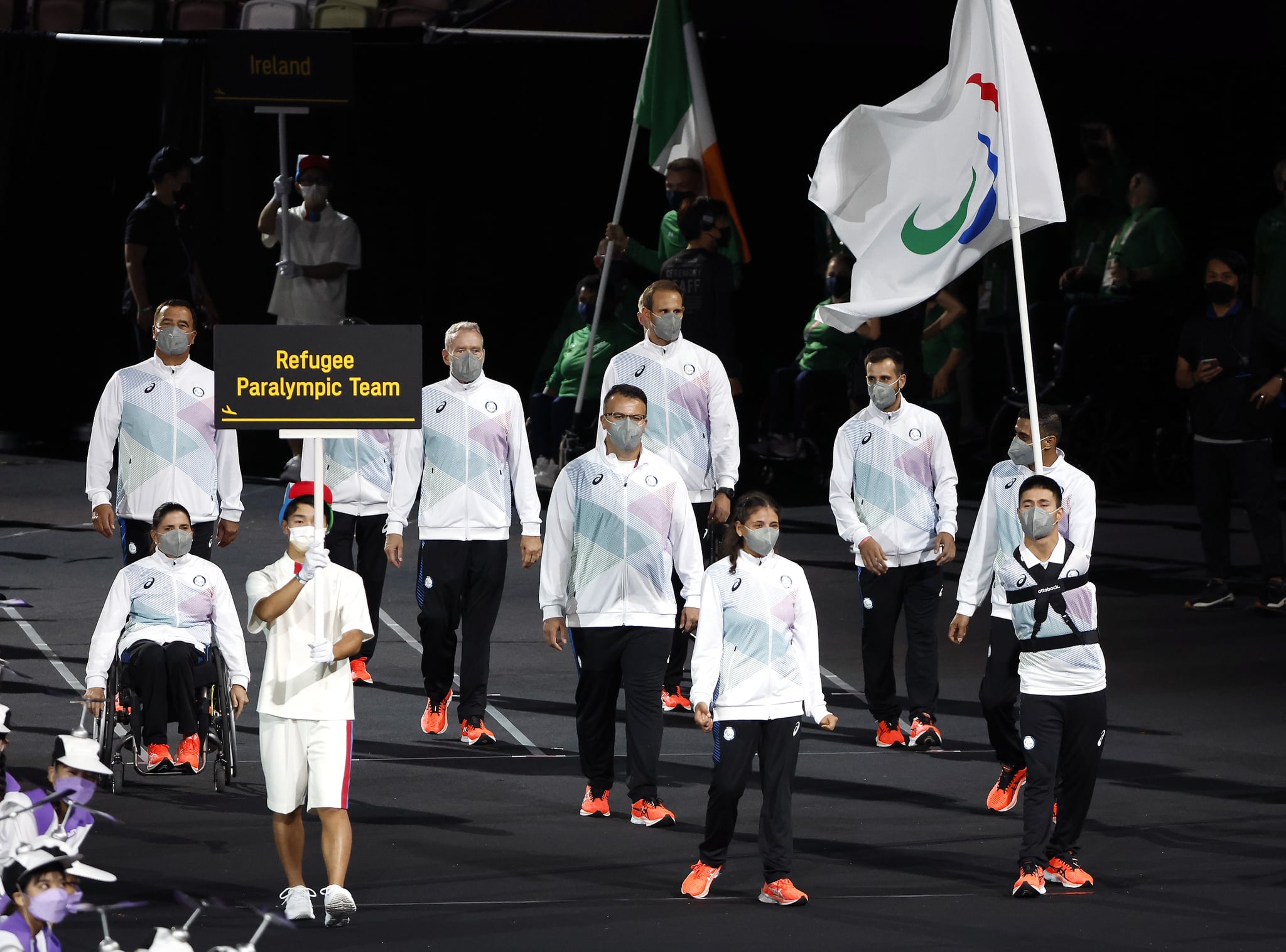 The Tokyo Paralympics kicked off in spectacular fashion on Tuesday, but if you missed the festivities, you still have one more opportunity to watch this year's opening ceremony. For the first time ever, the Paralympics will be aired in primetime, starting tonight at 7 p.m. ET, when NBCSN will replay coverage of the Paralympic opening ceremony. (Remember, Japan is 13 hours ahead of the East Coast of the United States, so events that air in primetime are often repackaged for American viewers.) Like in Paralympics past, the opening ceremony in Tokyo begins with a powerful performance, followed by the Parade of Nations made up of 162 delegations, who they enter the stadium behind their country's flag.
This year, the Refugee Paralympic Team is the first group to arrive. The rest of the parade follows suit, with most countries entering in the order of the Japanese alphabet. The last three teams to enter are the future and current host countries: the United States (which will host the Paralympics in 2028), France (the hosts for 2024), and Japan. Curious about the rest? We've compiled a complete list of the 162 teams participating in this year's Paralympics, in the order they appear, so you know exactly when to expect your teams to arrive.
Refugee Paralympic Team
Iceland
Ireland
Azerbaijan
Afghanistan (Carried in by a volunteer as a symbol of "solidarity and peace.")
United Arab Emirates
Algeria
Argentina
Aruba
Armenia
Angola
Yemen
Israel
Italy
Iraq
Iran
India
Indonesia
Uganda
Ukraine
Uzbekistan
Uruguay
Great Britain
Ecuador
Egypt
Estonia
Ethiopia
Russian Paralympic Committee
El Salvador
Australia
Austria
Oman
Netherlands
Ghana
Cape Verde
Guyana
Kazakhstan
Qatar
Canada
Gabon
Cameroon
Gambia
Cambodia
North Macedonia
Guinea
Guinea-Bissau
Cyprus
Cuba
Greece
Kyrgyzstan
Guatemala
Kuwait
Grenada
Croatia
Kenya
Côte d'Ivoire
Costa Rica
Colombia
Congo
Democratic Republic of the Congo
Saudi Arabia
São Tomé and Príncipe
Zambia
Sierra Leone
Jamaica
Georgia
Syria
Singapore
Zimbabwe
Switzerland
Sweden
Spain
Sri Lanka
Slovakia
Slovenia
Senegal
Serbia
Saint Vincent and the Grenadines
Somalia
Solomon Islands
Thailand
South Korea
Chinese Taipei
Tajikistan
Tanzania
Czech Republic
Central African Republic
China
Tunisia
Chile
Denmark
Germany
Togo
Dominican Republic
Turkey
Nigeria
Namibia
Nicaragua
Niger
New Zealand
Nepal
Norway
Bahrain
Haiti
Pakistan
Panama
Papua New Guinea
Bermuda
Paraguay
Barbados
Palestine
Hungary
Bhutan
Fiji
Philippines
Finland
Puerto Rico
Brazil
Bulgaria
Burkina Faso
Brunei
Burundi
Vietnam
Benin
Venezuela
Belarus
Peru
Belgium
Poland
Bosnia and Herzegovina
Botswana
Portugal
Hong Kong
Honduras
Madagascar
Malawi
Mali
Malta
Malaysia
South Africa
Mexico
Mauritius
Mozambique
Maldives
Moldova
Morocco
Mongolia
Montenegro
Jordan
Laos
Latvia
Lithuania
Libya
Liberia
Romania
Luxembourg
Rwanda
Lesotho
Lebanon
United States
France
Japan