Products You May Like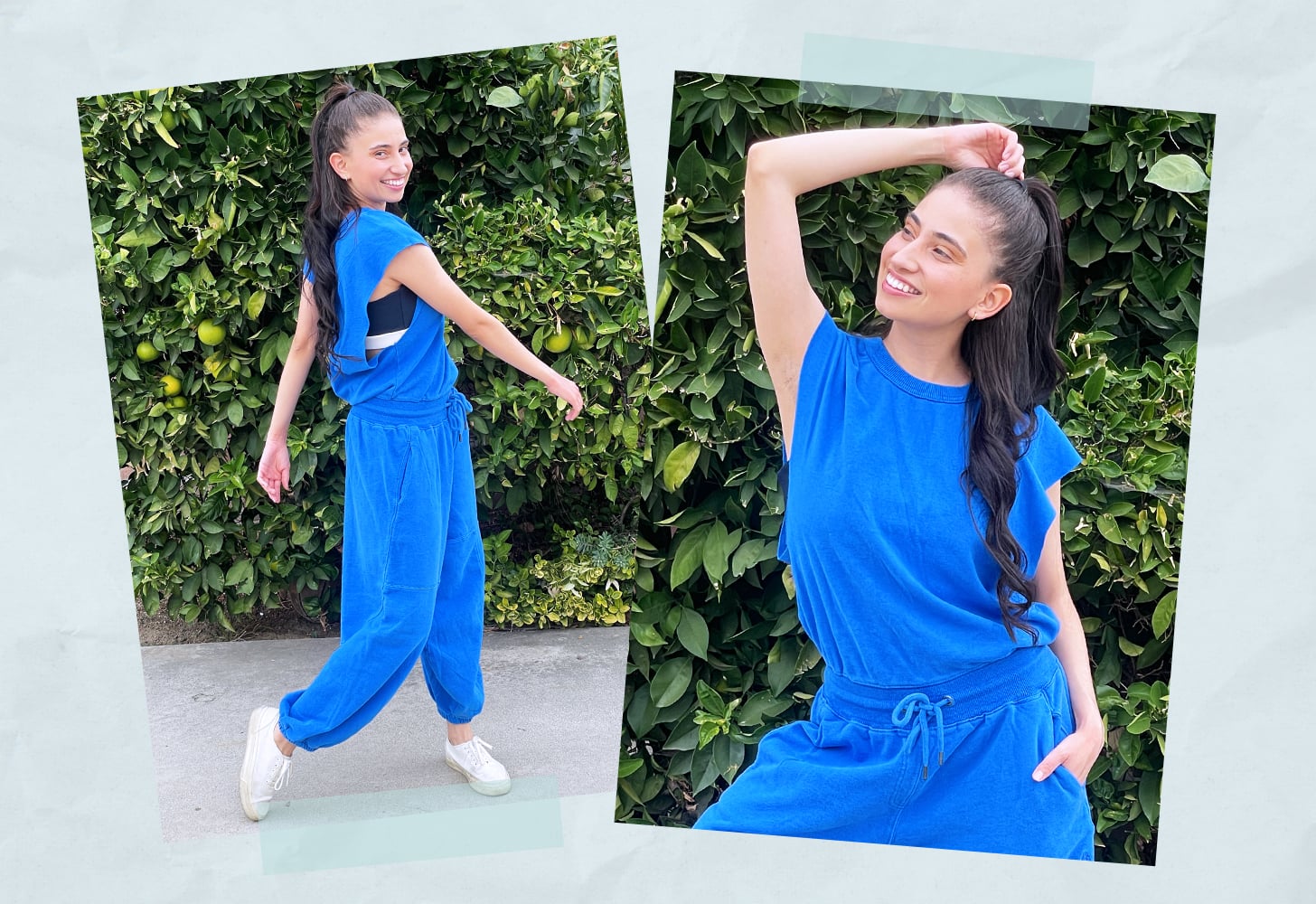 I've been dancing for 21 years, and trying to decide what to wear to a hip-hop dance class is always a challenge for me. I know I could easily wear leggings or sweats paired with a t-shirt or tank top, but it's not always the most comfortable or stylish option. When I go to dance class, I love wearing relaxed fits that allow me to move around without my clothes getting in the way, but if I can be fashionable at the same time, that's a plus.
Normally, I wouldn't go for a onesie for a class because it's either too tight or it ends up looking like pajamas — but then I found this FP Movement Throw and Go Onesie, which the brand kindly gave me the opportunity to test out. I love that it's a one-piece, but looks like a two-piece, thanks to the cinched waist. I can throw it on and go, without needing to think too much about my outfit. I thought I would end up only wearing this for dance class, but in reality, I ended up wearing this for literally everything. It's also great for working from home, running errands, and lounging.
In the time I've had this onesie, it's become a favorite piece in my wardrobe. Here's why I love it, and what to know if you're looking at getting one for yourself.
What's the Criteria For a Good Onesie?
Truthfully, it depends on what you're doing in it. If you're wearing a onesie to do a sweaty workout, you'll want moisture-wicking and slightly compressive fabric. If you're looking for something to lounge or travel in, you'll want a looser fit. No matter what, you'll want breathable fabric, like 100-percent cotton. There's also the fit to think about: you'll want enough room between the shoulder seam and crotch seam for your torso to comfortably move, but also not be too long on your legs — and that's tricky when you're buying a one-piece outfit. Finally, there's versatility. You'll want a silhouette, fabric, and color that you can imagine pairing with other items in your wardrobe, like sneakers, warm layers, and sports bras.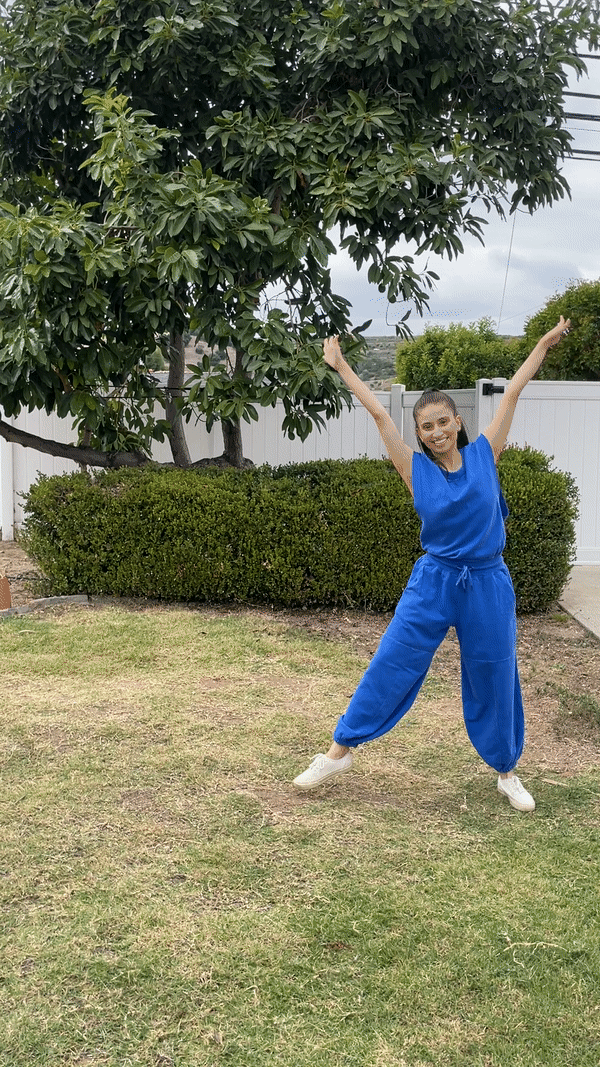 What I Like About the FP Movement Throw and Go Onesie
I love that it's an instant, laid-back 'fit. As soon as I put on this onesie, I feel like I'm in my carefree era because it's just so comfortable. Despite being comfortable, it's also great for wearing while I'm active and moving around — I can do cartwheels in this thing without a worry.
This onesie also offers a nice break from activewear with compressive fabrics, which can start to feel uncomfortable if I wear them for a long time or every day. Since this onesie has a baggy fit, it allows for lots of airflow, and the material doesn't feel stuck to my skin like a pair of leggings. I can feel the breeze through my entire body, even when I'm sweating.
One of my favorite details on this onesie is the open back. The cutout highlights whatever you're layering under it, which makes it a great moment to wear a fun or strappy sports bra. I think the cutout helps elevate it from a casual look to a more stylish outfit, so I can feel comfortable wearing it out in public without feeling like I'm just in sweats.
I also love this onesie for a hip-hop or modern dance class because of its loose fit. Those dance styles focus on letting go and breathing through every phrase, and wearing something flowy like this onesie helps me embody that. The wide-cut sleeves and back cutout allow for tons of ventilation, so even when I'm sweating during a class, I feel cool. And last but certainly not least, I love how it looks on me while dancing.
What's Worth Noting About the FP Movement Throw and Go Onesie
I assumed I'd be a size small, but it was pretty big on me. I ended up sizing down to an XS, which fit just right. I highly recommend taking a look at their sizing guide, which I missed the first time I ordered. It's super helpful and you shouldn't go wrong if you follow it.
Since this onesie is 100 percent cotton, you'll also want to follow the brand's advice to wash it on cold so it doesn't shrink.
Who Is the FP Movement Throw and Go Onesie Best For?
The FP Movement Throw and Go Onesie is great for anyone looking for a comfortable yet stylish instant outfit either for dancing, running errands, traveling, or lounging at home. It's super versatile and can be worn pretty much anywhere.
Additional Details About the FP Movement Throw and Go Onesie
Material: 100 percent cotton
Color options: This onesie comes in 10 different colors, including Electric Cobalt, which I'm wearing here.
Size range: XS to XL
Where Is the FP Movement Throw and Go Onesie Available?
The FP Movement Throw and Go Onesie ($98) is available on freepeople.com. You can also get the FP Movement Throw and Go Onesie in White or Cherry Blossom ($128) on revolve.com.
Rating:
Image Source: POPSUGAR Photography / Lilian Gonzalez