Products You May Like
Suni Lee is ready to make an Olympic-sized comeback. On Nov. 15, the reigning Olympic all-around champion, who shot to fame after helping to lead the US women's gymnastics team to silver at the Tokyo Olympics in 2021, announced her plans to wrap up her NCAA gymnastics career at Auburn University after the 2023 season (her sophomore year) and mount a return to elite gymnastics with an eye on Paris 2024.
In a video posted to Twitter and Instagram, Lee explains that it wasn't an easy choice. "Today, I am sharing a decision that has weighed on me for a really long time," she says. "As an athlete that has competed at the highest level, on the world's biggest stage, I've been fortunate enough to experience that once-in-a-lifetime feeling and the indescribable emotion when a gold medal is draped around your neck. But I don't want it to just be once in a lifetime."
Speaking with POPSUGAR for her November 2021 cover story, Lee expressed interest in competing in another world championships and Olympics but hadn't definitively announced her intentions for the 2024 Games. At that time, Lee had been focused on her first NCAA season and competing on "Dancing With the Stars" while looking forward to having a "normal" college experience. "I lost my whole childhood to gymnastics," she told POPSUGAR. "Since I sacrificed all of that, I wanted to have the college experience and get what I couldn't have [in high school] . . . I wanted to be treated normal."
Of course, normal is relative when you're an Olympic champion. Lee became an instant standout in her first season at Auburn, where she won an individual NCAA title on the balance beam, placed second in the all-around, and helped the team reach the 2022 NCAA championships. Lee's presence also helped Auburn draw sell-out crowds at every home meet of the season. The university has already sold out of home gymnastics meet tickets for 2023, Auburn announced earlier this month.
"Competing for Auburn University has always been a dream of mine and a dream that rose in tandem with going to the Olympics," Lee says in the video. (For years, she had been committed to the school's team, which is led by her coach's twin brother.) "I have learned so much about myself, true teamwork, and about community during my time here," Lee continues before announcing that this would be her last season competing for the school. "My focus right now is to make it the most incredible season yet and to be the best teammate I can be."
Lee was one of several US Olympic gymnasts competing in the NCAA this past season, including her Tokyo teammates Jade Carey, Jordan Chiles, and Grace McCallum. Chiles and Carey both simultaneously balanced their elite careers with NCAA, becoming the first US Olympic women gymnasts to compete in an elite competition after a season of college gymnastics. In an interview with ESPN, Lee said that the success of her teammates in both elite and NCAA made her "even more excited to step back into that level of competition."
"I've always had this tiny voice in the back of my mind telling me I wasn't done with elite and wanted to give it another shot," Lee added in the interview. Due to the intense amount of training she'll need to prepare for the next Olympics — Lee described it as "a full-time job" — the 19-year-old knew she'd need to step away from NCAA competition in order to have the best shot at making the Games. She'll be competing against a talented young US field.
"I know what I have to do to get [to Paris]," Lee says in the video. "I am looking forward to rolling up my sleeves and putting in the work. Gymnastics is my passion and something that I love so deeply because it pushes me to be the best version of myself every single day."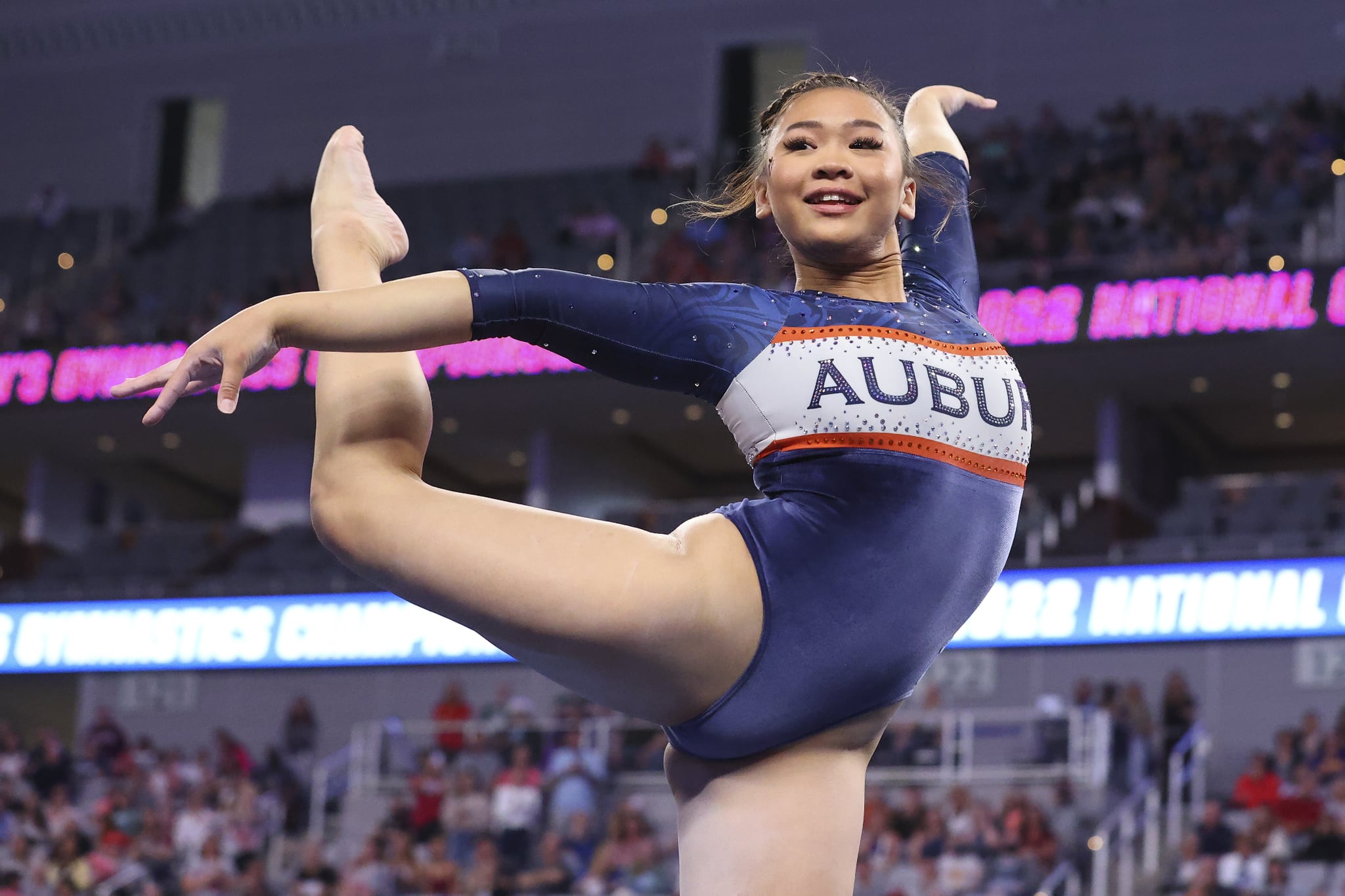 Image Source: Getty / C. Morgan Engel