Products You May Like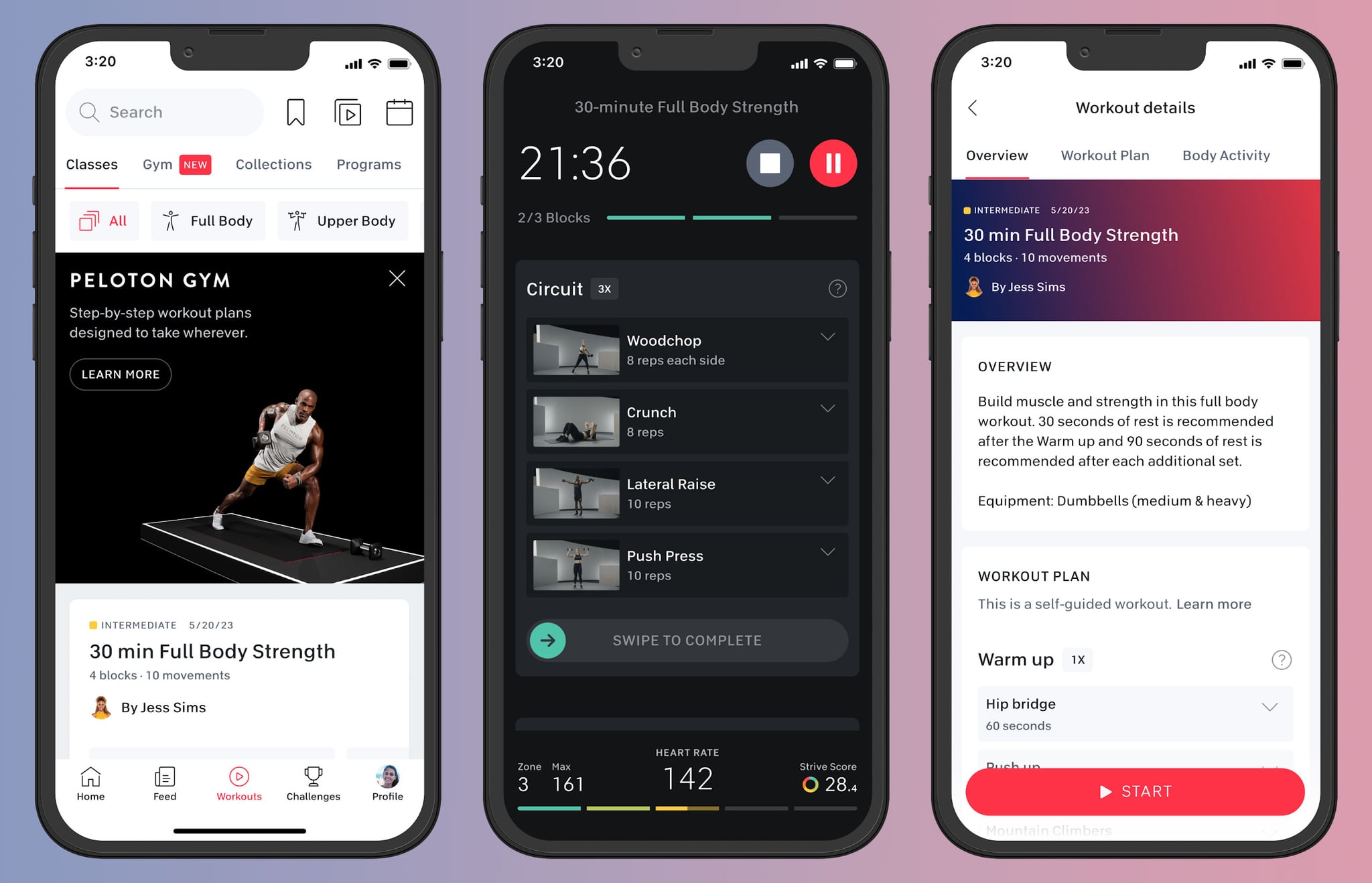 Peloton devotees love the fitness streamer for its top-notch classes, charismatic instructors, and huge variety of workouts — but it's never been overwhelmingly gym-friendly. The platform rose to immense popularity during the COVID pandemic because it turns home workouts into a studio-style experience, but those high-quality videos and in-real-time cueing don't necessarily translate well to the weight room or glitchy gym WiFi.
But Peloton's newest offering is about to change that: called Peloton Gym, it's a new, completely free section in the Peloton app with non-video-based, step-by-step workout plans designed to be taken at the gym (or wherever else you're working out). It begins rolling out on May 23 on the Peloton App and will be available to all members by May 25.
"One of my hopes is that Peloton Gym will give people, especially women, even more confidence when working out at the gym."
What the brand describes as "whiteboard, circuit-style" workouts will be crafted by the same Peloton instructors you know and love. They'll feature short videos demonstrating the moves and incorporate typical gym equipment, such as free weights and weight machines. As you're performing the workout, a timer will appear on screen, and you'll swipe to show that you've finished a move and move on to the next one.
"We want people to take us with them to the gym. And with these gym plans available on the new completely free tier of the Peloton App, strength training with Peloton has never been more accessible," Peloton instructor Jess Sims tells POPSUGAR. "We have amazing Strength classes at Peloton, and Peloton Gym was an opportunity to build upon that . . . If you're not sure what to do at the gym, we've got your back. Peloton Gym gives you the structure and framework for a strength workout, but you're able to move through it at your own pace. And if you're unsure how to perform any particular movement, every single exercise in each gym plan includes a video demonstration and a written description."
Along with this new release, Peloton is changing its membership options. Now, there are three different membership tiers:
Peloton Free App: With this free option, you can take a guided Peloton class, follow a step-by-step gym workout, and track your workouts. It offers limited access to cardio equipment and other classes, but you'll be able to stream more than 50 different classes across Peloton categories, which will be refreshed regularly.
Peloton App One: With this membership, you'll get access to thousands of Peloton's streamable workout classes, from strength to meditation and yoga, featuring playlists with your favorite music. You'll also be able to take three cardio equipment classes (Bike, Tread, or Row) per month. Start with a 30-day trial, then continue access for $13 per month or $129 per year.
Peloton App+: This is the membership required if you want to work out on a piece of Peloton cardio equipment (such as their Bike, Tread, or Row) or any other indoor cardio equipment (such as your gym's treadmill or rower) without restrictions. You'll also get access to Peloton's other types of classes as well as their new gym workouts. New and live classes are added daily. Start with a 30-day trial, then continue access for $24 per month or $240 a year.
Many gym workout apps offer similar guided workouts as this new Peloton feature; however, putting that content on the app alongside the industry-leading streamable classes that Peloton is known for makes this a veritable one-stop-shop for any fitness needs. As people return to gyms and IRL group classes but continue to make use of the home gyms they built during COVID, the Peloton app is poised to offer that same type of hybrid offering.
For Sims, it's also about making weight training feel more accessible. "One of my hopes is that Peloton Gym will give people, especially women, even more confidence when working out at the gym," Sims says. "It can feel overwhelming trying to decide what to do at the gym, or figuring out how to use certain strength training equipment if you're unfamiliar with it. Peloton Gym gives you a plan and offers support for how to perform the exercises, but also gives you the autonomy to move through the workout at your own pace while listening to your own music of choice."
Image Source: Courtesy of Peloton