Products You May Like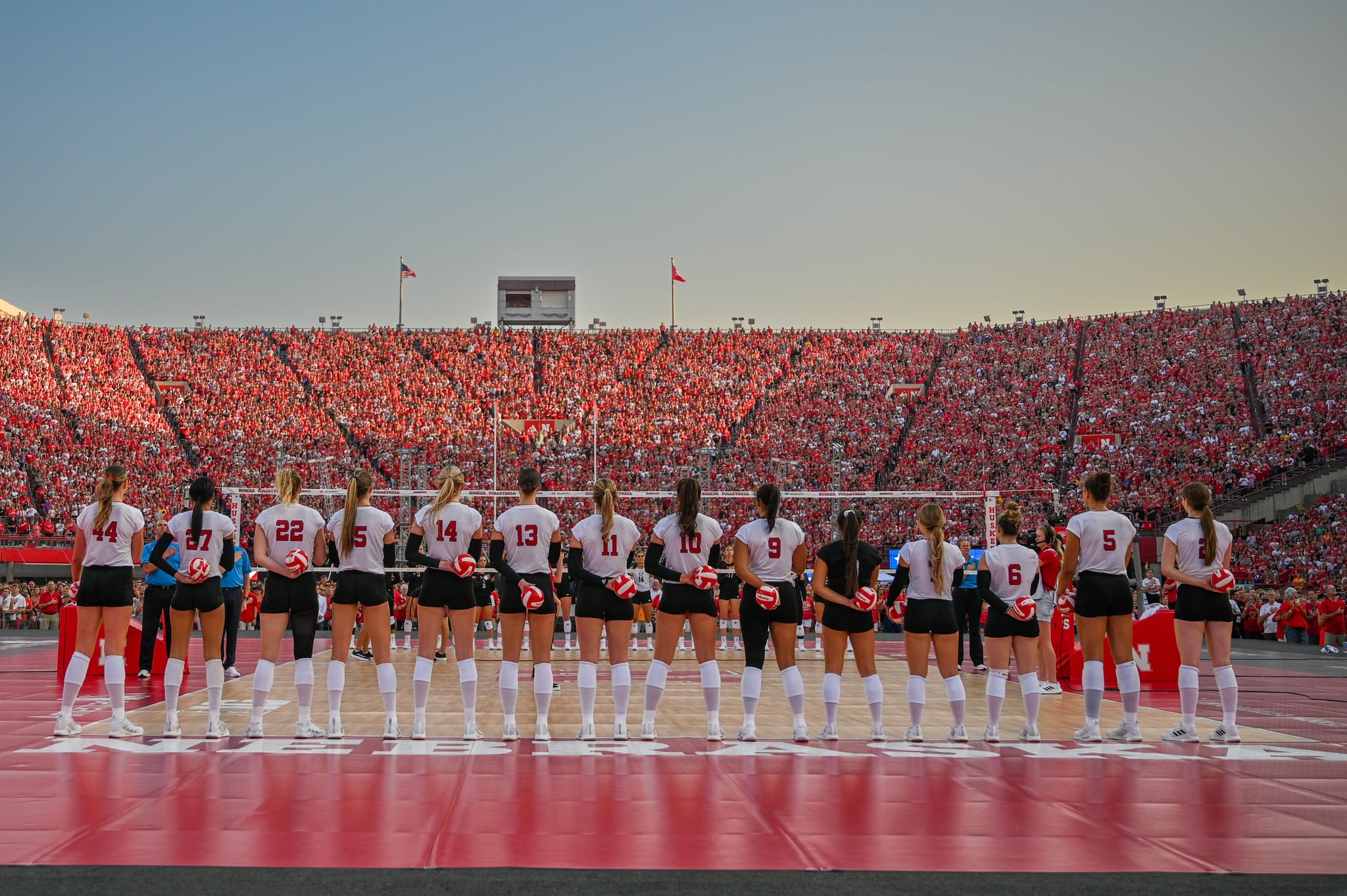 The current world record for the most-attended women's sporting event of all time didn't take place on an Olympic, international, or even professional stage — it took place right at the University of Nebraska. The school's women's volleyball team, the Cornhuskers, hosted the Omaha Mavericks in their football stadium on Aug. 30 for an outdoor match and set the record with an official attendance of 92,003.
During what's being called "Volleyball Day in Nebraska," the Huskers defeated Omaha in a 3-0 sweep, never trailing. Their win and impressive fan turnout (aka Husker Nation) aren't exclusive to this one-day event; the five-time national champions are 4-0 so far this season and have sold out an NCAA-record 306 consecutive regular season matches.
Nebraska just surpassed the previous attendance record set in Barcelona, Spain, in April 2022, when 91,648 people gathered to watch the UEFA Champions League semifinal between Barcelona and Wolfsburg. The Huskers' record comes just a few weeks after the end of the 2023 FIFA Women's World Cup — the biggest edition in history, with 32 teams, in a time when women's sports are finally getting their flowers.
In videos shared on social media of the players' tunnel walk, record reveal, and gameplay, the energy is palpable, and commenters keep reacting with one thing: chills. (Watch the match recap below to get a taste.) "As a former female athlete, I have goosebumps and I can't help but cry at this," one Instagram user commented. "This the most amazing thing to see! Thank you Husker Nation and thank you @huskervb for showing the world that every sport can be enjoyed equally and supported equally!"
"I've probably cried five times today and I'm not kidding," Nebraska volleyball coach John Cook said in a post-match press conference. "Several times I've had to bite my lip to hold it together. It's been a very emotional day."
The significance was not lost on Nebraska player Lexi Rodriguez, who joined the press conference looking tearful. "I was trying to stay in the moment and present and soak it all in . . . I think it's huge for little girls to see a women's sports and volleyball played on this big of a stage and having so many people invested in it," she said.
Some women's sports fans on Instagram are pointing out that the most-attended women's sporting event may have been the 1971 Women's World Cup final between Denmark and Mexico in Mexico City, which was attended by an estimated 110,000 fans, according to FIFA; however, since that wasn't an "official" event, it's not counted toward all-time records. (The first sanctioned FIFA Women's World Cup took place 20 years later, in 1991, more than 60 years after the men's tournament began.)
Despite the disappointing history of women's sports being discounted, the momentum and energy around women's sports in the last year or so is undeniable and electric — and perhaps nothing is better proof of that than the impressive, passionate crowd that lined up in Lincoln, NE, for Volleyball Day. As Togethxr — the sports media brand created by Alex Morgan, Chloe Kim, and other women athletes — wrote on Instagram: "IF THERE'S ONE THING WE DO IT'S SHOW UP AND MAKE HISTORY".
And women's sports fans have made it clear they'll do that as many times as is necessary to make it "officially" count.