Products You May Like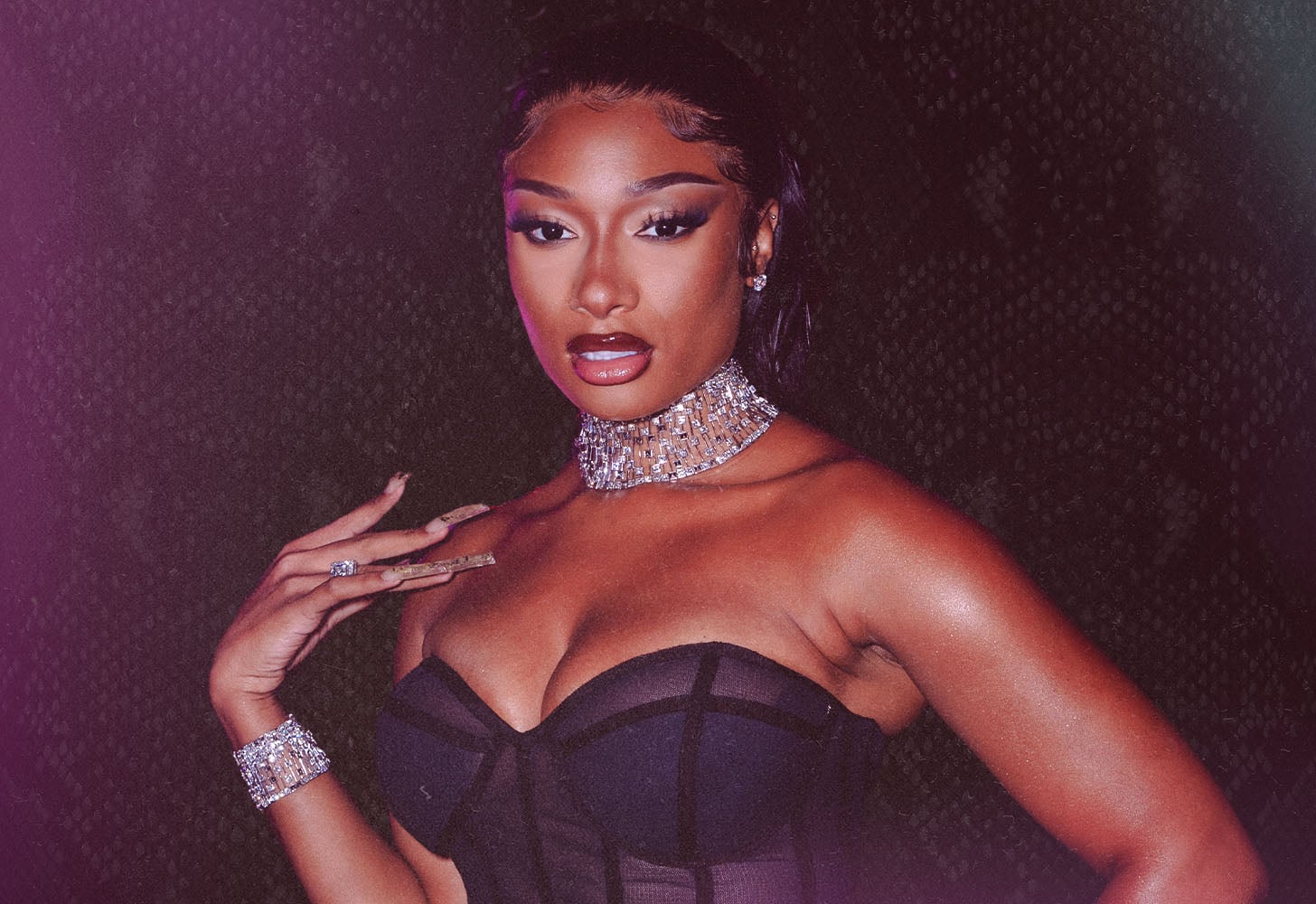 Content Warning: This article contains mention of suicide and suicide ideation. Please proceed thoughtfully.
Megan the Stallion's much-anticipated music video for "Cobra" was released yesterday, and within hours, it was trending all over social media. Though the visuals and concept for the video were magnificent and Meg looks as stunning as ever, the deeper conversation the song is brings up is her brave vulnerability in sharing the struggles she's had with mental health, suicidal ideations, domestic violence, and processing the deaths of her parents.
As a Black woman who has struggled with depression, self-harm, and suicidal ideations at various points throughout my life, hearing Meg rap, "How can somebody so blessed wanna slit they wrist?" made me feel seen and understood on a soul level. As a child growing up in the Black community, I, like many others, was taught to be grateful for my blessings and not complain about my losses. Although the sentiment behind this mindset is admirable, in reality, we learn to suppress our feelings and only focus on achieving our next success. And when we are honest about how we feel, we're told to be strong and just keep going.
Black women are often made to feel as though we're responsible for ourselves and the world around us without that security being reciprocated, as Meg alludes to: "Every night I cried, I almost died / And nobody close tried to stop me / Long as everybody gettin' paid, right?"
In various facets of society, Black women are indeed achieving more and reaching new heights right now. Every day, we read articles about how Black women are the most educated demographic in America today and how we're the fastest-growing demographic of entrepreneurs. Yet, at every turn, we're also villainized for our success and not believed when we say we're harmed. The evident misogynoir Black women face on a daily basis through microaggressions, discrimination, and physical violence only exacerbates the strain on our mental health.
Society has engrained an ideology that Black women need to always be strong, never show weakness, and push through the pain, no matter what is done to us. And it's clear we're not getting the help we need. Due to the racial disparities within the medical system, Black women are often underdiagnosed for depression because their symptoms aren't stereotypical, according to a 2022 New York University report. And "Black women are only about half as likely to seek [mental health] care" as white women, according to 2021 research in the Psychiatric Times. That has real and devastating consequences; in 2019, Black high school girls were 60 percent more likely to attempt suicide than their non-Hispanic white counterparts, according to the U.S. Department of Health and Human Services.
Meg's honesty in "Cobra" about self-medicating, being cheated on, and her anxiety gives other Black women, like myself, the space to be honest about how we feel. Yes, we can and do achieve great things in the world every day. We will continue to make history and break through barriers: this past summer alone, Beyoncé's "Renaissance" Tour shattered multiple grossing records; Simone Biles, Shilese Jones, and Rebeca Andrade had a historic sweep at the World Artistic Gymnastics Championships; and Sha'Carri Richardson won the 100-meter at the World Track and Field Championships.
Yes, these are beautiful moments and cause for celebration, but how often do we ask ourselves at what cost? How often do we genuinely take a moment to evaluate how we're doing and how our mental health is holding up throughout the journey of reaching our goals?
In recent years, we've seen many Black women speak up about their struggles with mental health: Simone Biles, Naomi Osaka, and Serena Williams, just to name a few. However, even with these prominent figures discussing how important it is to seek help when you need it and take care of yourself, it's still not a fully accepted conversation within the Black community.
Meg continues to give Black women the space and freedom to sit in our truths regardless of how others feel about it. This song shows that you can be a successful, powerful, accomplished Black woman and also experience anxiety and depression. With "Cobra," Meg gives Black women permission to not always be the strong, high-achieving figures society expects and the space to truly sit in the complexity of our humanity and all it entails.
Even though the world can make us feel as though we're alone, Meg's "Cobra" reminds us we all have shared experiences — and the more we talk about what we've been through, the more we all heal.
If you or someone you know is struggling with suicide ideation, the National Alliance on Mental Illness has resources available including a helpline at 1-800-950-NAMI (6424). You can also dial 988, the nation's suicide and crisis hotline.
Image Source: Getty / Catherine Powell Stringer gawrav; Photo Illustration by Ava Cruz