Products You May Like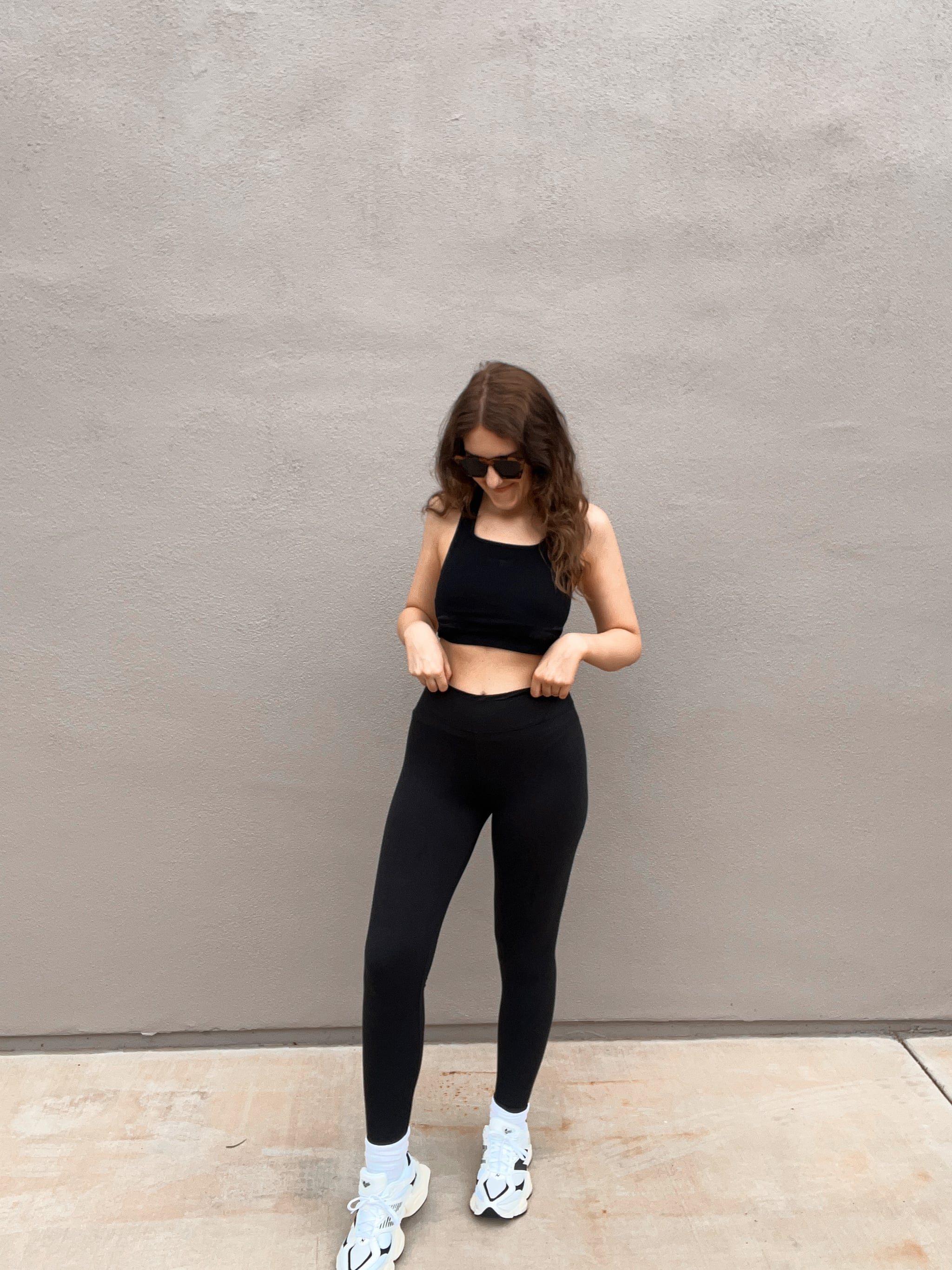 When I need a style that's affordable, top rated, and able to be delivered to my doorstep within only a few days, I'll typically kick off my shopping spree with a scroll through Amazon's bestsellers section. This is a destination where the retailer conveniently rounds up all of its most popular items on any given week, with products that span across all categories — from tech to beauty, fashion, and more. Each product boasts thousands of five-star reviews and ratings, and most fall into the affordable category with an under-$50 price tag (much to my delight, of course).
While I've tested out dozens of bestselling Amazon products in my career, I was admittedly late to discovering the Satina High-Waisted Leggings ($15) — which have raked in more than 60,000 five-star reviews (and more than 94,000 total ratings), with shoppers raving about seemingly every aspect of the style, from the pant's figure-flattering fit and buttery-soft material to its durable yet breathable build (that's not see through but still incredibly lightweight) and, of course, the wide variety of color options that are available to shop, too.
Upon first glance, these workout leggings almost seem too good to be true — especially since they're only available in two size options. Skeptical and eager to be proved wrong, I immediately added a pair to my Amazon shopping cart — and let's just say my workout wardrobe has never been the same since. It's rare that I credit a product with living up to its full hype (especially since the internet has a habit of overhyping everything these days), but these Amazon leggings have proven to be the exception. Keep reading for my full review on the style — and why I'll likely be buying them in every color.
What I Like About These Amazon Leggings
I'm notoriously difficult to please when it comes to athletic wear, and with leggings in particular, my standards are exceptionally high. I want a pant that's thin enough to feel like a second skin but still thick enough to ensure it won't split during a workout (or in my nightmare scenario, during a squat session). I want a style that hugs my legs and waist in all the right ways yet isn't too compressive that it feels constricting to move around in. Comfort and breathability are also top priorities — especially living in Arizona when I find myself sweating the moment I step outside of my house. And of course, I value finding pieces that are stylish enough to actually get me excited about working out — because frankly, I need all the motivation I can get.
These Amazon leggings, rather miraculously, check all of those boxes and then some. The pants are made from a polyester and spandex material that's buttery soft to the touch and so lightweight, I honestly forget that I'm wearing pants at all (which is equal parts unsettling and cool). They're fitted with a tummy-control design that molds perfectly to my figure and accentuates my curves in all the best ways. I also love that despite feeling incredibly elevated and luxurious, they're relatively low maintenance and easy to care for; per instruction from the brand, you can simply wash them with similar colors and tumble-dry low. Plus, unlike other leggings I've purchased from name brands, these athletic pants are so affordable (you seriously can't beat that under-$30 price tag), which gives me enough budget flexibility to stock up on more pairs and really expand on my workout wardrobe.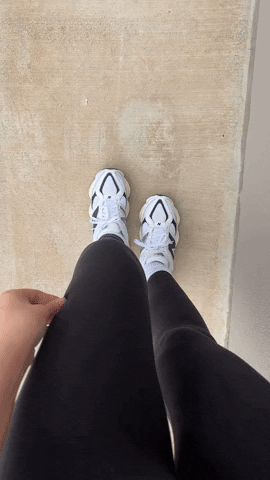 What's Worth Noting
My singular critique with these bestselling Amazon leggings is that they're only available to shop in two sizes: one size and one size plus. How the style manages to mold perfectly to my body's shape and size — along with the figures of thousands of other shoppers — is honestly so far beyond my width of understanding, but somehow they work. I attribute part of this to the legging's relaxed, loose-fitting design. Unlike other leggings, this style isn't really made from a compression material that's tight fitting, which makes them great for lounging — but perhaps less ideal for high-intensity workouts where you want a little extra support. Many reviewers have also said that for petite sizes, they're quite long. I'm personally 5'9″ and ordered these leggings in a regular size. While they fit me perfectly, several shoppers have noted their struggles with the length of the pants, with many even acknowledging they've had to roll them up at the bottoms just to ensure they don't stretch down to their feet.
All in all, I would still recommend this style if you're looking for a reliable and affordable pair of leggings. That being said, if you're someone who prefers a more exact fit, I might recommend shopping out other Amazon leggings with more sizing options.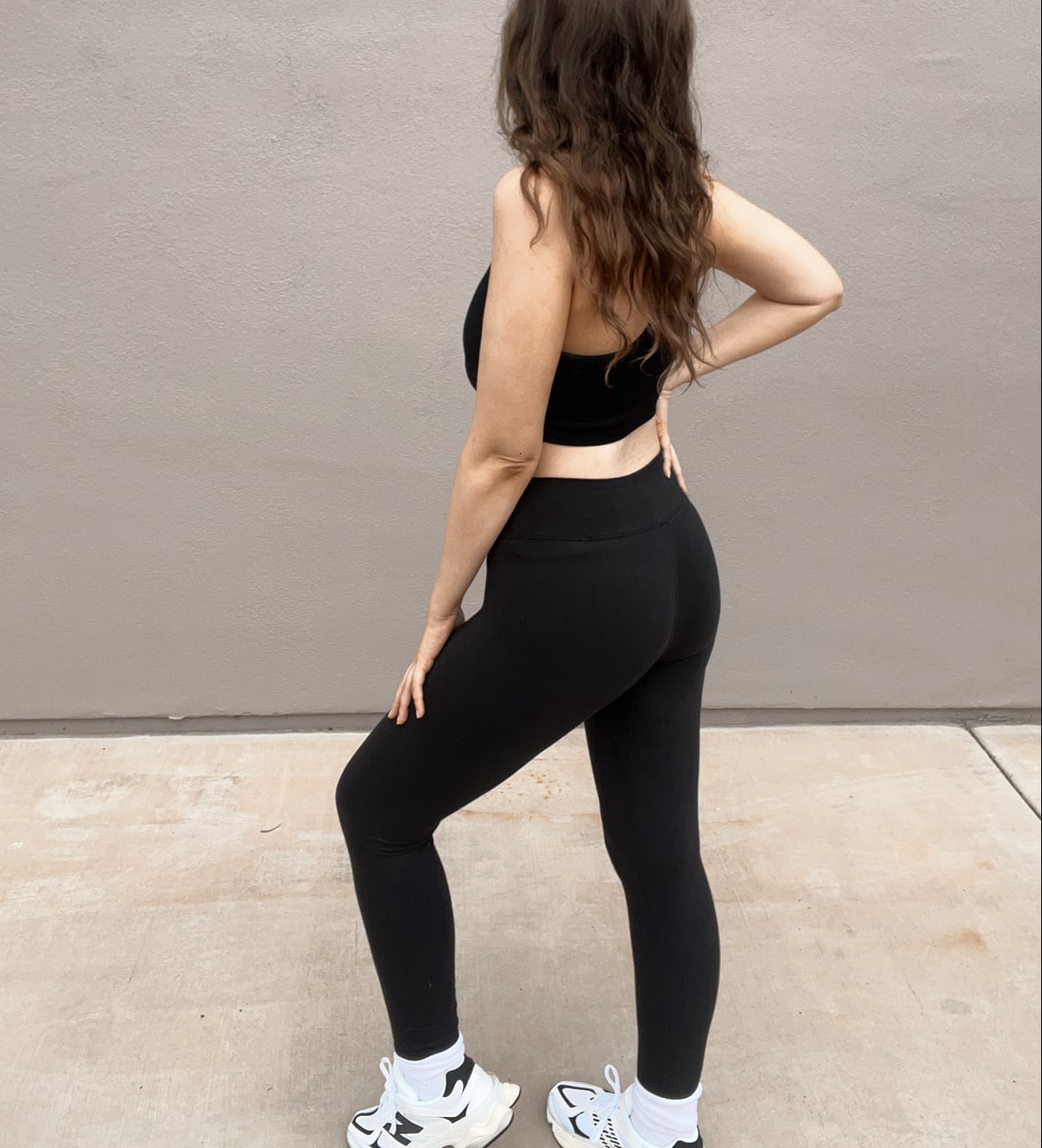 Who Are These Amazon Leggings Best For?
These leggings are perfect for anyone who wants to add a quality and comfortable style to their wardrobe without having to break the bank. The leggings are a perfect dupe for so many other high-end styles, and with an under-$20 price tag, you could even shop the pair in multiple colorways. Whether you're wearing them around the house for lounging purposes or sporting them for a long flight or movement-heavy gym session, these leggings are designed for any and every activity.
Where Are These Amazon Leggings Available?
These leggings are available to shop on Amazon.
Additional Details
These top-rated Amazon leggings come in 25 different color options, including black (my shade of choice), seafoam green, fuchsia, and more.
The athletic pants are available in two different sizes: one size and one size plus.
Most designs are available to shop in a variety of different lengths, too, like full length, capri, and full length with pockets.
Rating:

Image Source: POPSUGAR Photography / Kyley Warren