Products You May Like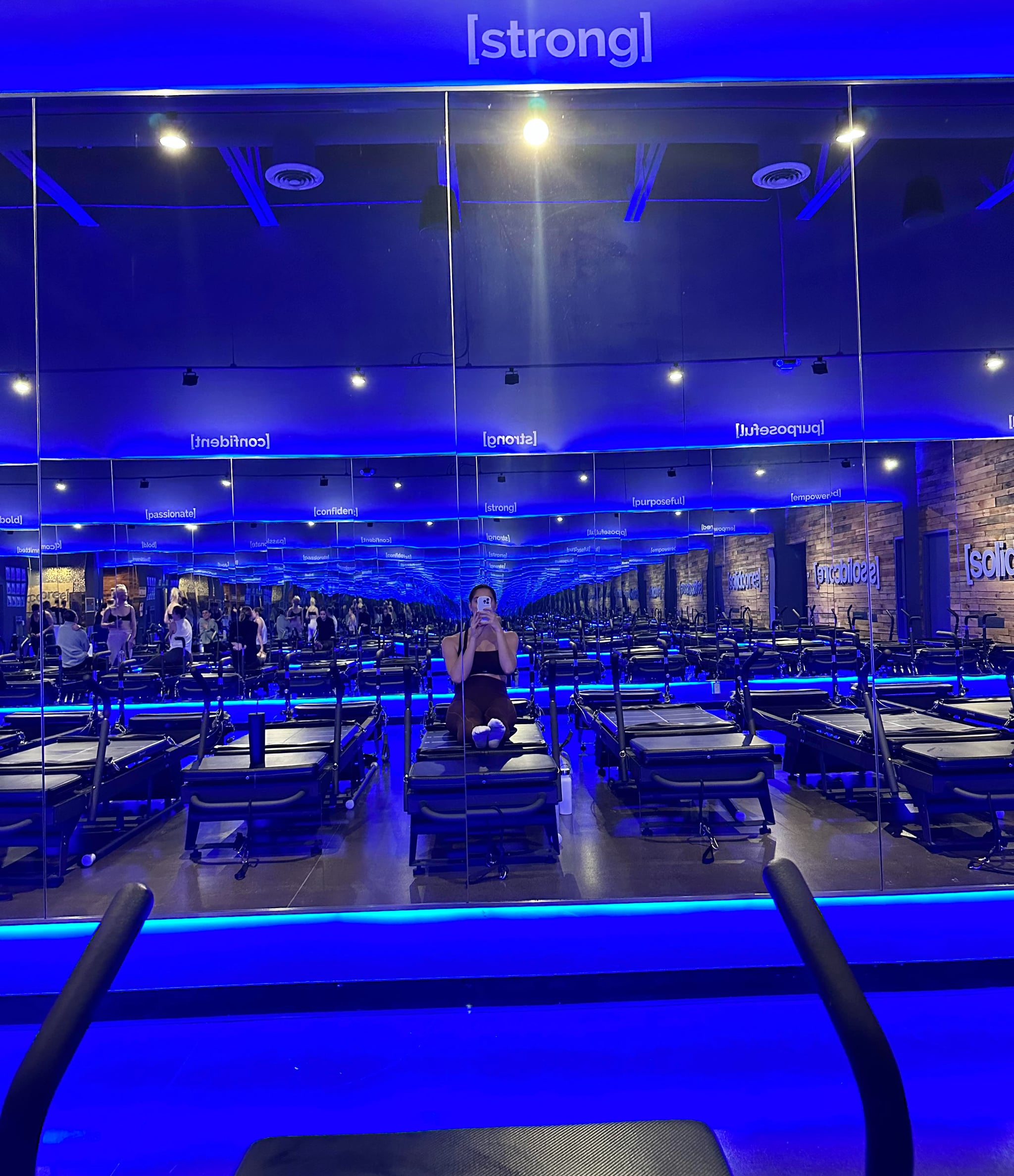 The night before my first Solidcore class, I made the bold decision to reunite with a college friend over drinks. While sipping wine, I confessed I should probably take it more slowly; my class was imminent, scheduled for 6 a.m. at its Nolita studio in lower Manhattan. "Marisa, do you know how hard that class is?" my friend asked through nervous laughter and a concerned stare. I didn't, in fact. As someone who loves to try all types of workout classes for the experience (SoulCycle! OrangeTheory! Barry's Bootcamp!), I assumed I'd be fine, but it was the rude awakening I needed to put down the vino.
As my past attendance list shows, I tend to favor high-impact exercise; it's what I'm most comfortable with. My attempts at yoga or, even worse, cardio dance classes, have left me feeling self-conscious and unsure, with the nagging suspicion that I was doing the moves wrong (I definitely was). But for some reason, I had a hunch that Solidcore, a famously challenging workout known for being low-impact yet high-intensity, could be a better fit for me. (Spoiler alert: it was.) Ahead, I break down what the class is, why it's popular, and what my experience was like — in the wake of the wine and beyond.
Solidcore is a low-impact, high-intensity resistance training workout. "The workout is similar to Pilates because it utilizes a resistance-based machine with a focus on slow and controlled movements," says Taylor Bogenschuetz, director of training and development at Solidcore. That machine is what the brand has cleverly dubbed "sweatlana," a stationary platform featuring a carriage that slides back and forth, sandwiched between two non-moving platforms.
The goal of the class is to push yourself to the point of "second stage muscle failure," breaking down slow-twitch muscle fibers to build them up stronger than before. This is achieved through super-slow movements on the machine and with resistance bands, which stimulate your muscles. Throughout the class, the instructor leads you through a variety of exercises, including lunges, plank extensions, crunches, and more, that utilize all parts of the machine.
Bogenschuetz emphasizes that Solidcore is more than just a workout; it's a community. "We place a strong emphasis on building relationships between the coach and the client," she explains, noting that Solidcore instructors take the time to learn everyone's name and even give shoutouts during class to recognize A+ effort. Or, perhaps, when you're struggling and could use some extra encouragement.
What Was My Experience With Solidcore?
I arrived at the Solidcore studio before dawn, miraculously not hungover but still anxious. My nerves only intensified when I walked into the studio and saw rows of imposing "sweatlana machines," realizing I had no idea how to use them. After sheepishly admitting it was my first time and that I was scared, my instructor brought me back to earth and said, "It's just a workout." Fair. I selected my machine and mentally prepared to start, taking a seat on the carriage like everyone else.
The studio's lively ambiance was palpable, and it likely contributed to my heightened energy level. The room itself was illuminated by moody blue lighting and was pulsating with top 40 music that made my Apple Watch display a decibel warning. As I reached the 30-minute mark, my core began to tremble more than it ever had before, an unmistakable indication that I was on the right track, even if I wasn't executing every move flawlessly. But I felt good. I found myself swept up in the intensity of it all, and I already knew, without a doubt, that I'd be back for another session.
It certainly helped that the the instructor guided us through every minute of the 50-minute class. He delivered concise explanations of each movement over a microphone and kept the class flowing seamlessly by counting down the seconds until we transitioned to the next exercise. To ensure I was doing each move correctly, I stole a few glances at the more experienced attendees (who I hoped were too focused on their own workout to notice me staring at them). But the instructor was always on the lookout and came over to adjust my form a few times, which I appreciated.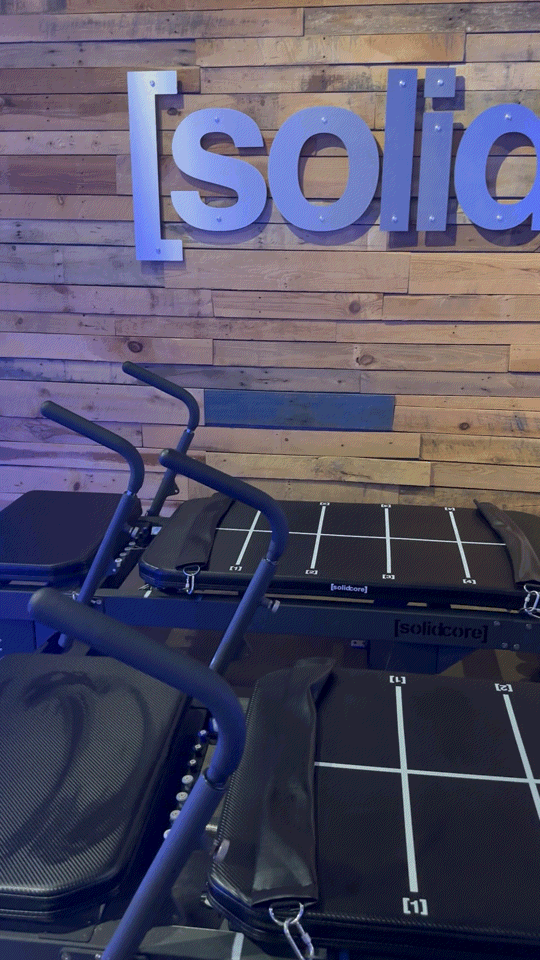 The Benefit of Low-Impact Exercise
After attending a few Solidcore classes, I began to reflect on my former disregard for low-impact exercise, which I realized was not doing me any favors. With just three sessions under my belt, I was already gaining a deeper understanding of my muscle groups and how it felt to work them, something that I had never fully considered while doing activities like running a literal marathon or taking HIIT classes.
This realization prompted me to speak with a trainer who underscores the mind-body connection in his practice. Enter Dominic Leeder, a strength trainer at Pilates Class. He tells me that he introduces his clients to this concept, stressing the importance of being aware of what muscles are being used during exercise. "Without a mind-body connection, we're not aware of what muscles to use for an exercise," he explains.
Leeder often begins by focusing on the core, helping his clients develop an understanding of how it feels to engage the transverse abdominis, lower core muscles, and other muscles in the area. "If you don't have a good mind-body connection and really know the muscle, nine times out of 10, you probably aren't working it," he notes. This resonated with me, because I've taken countless HIIT classes featuring ab exercises, but I feel like Solidcore has been a game-changer in helping me figure out how to fire up my core with precision and intention.
While Solidcore has quickly become a favorite of mine, the reality is that an unlimited membership is not in my budget, with prices hovering around $300 per month (although a single class can be purchased for around $35). But that's okay, because I prefer to mix up my workouts to keep things interesting. I've been complementing Solidcore with outdoor runs, leisurely walks, and high-intensity workout classes here and there.
Fast forward to today, and I've attended Solidcore 10 times in total, but I wouldn't call myself an expert. When I'm unsure of a movement, I still take cues from the other attendees. However, I've come to realize that nailing each exercise perfectly isn't the only thing that matters. The slow and controlled resistance training has been a refreshing change, both for my mind and body. I used to dismiss low-impact exercise as painfully boring, without any solid reasoning to back up my opinion. But now, I can confidently attest that low-impact exercise can be both fulfilling and fun, and I even have a Beyoncé-themed Solidcore class on my schedule to prove it.