Products You May Like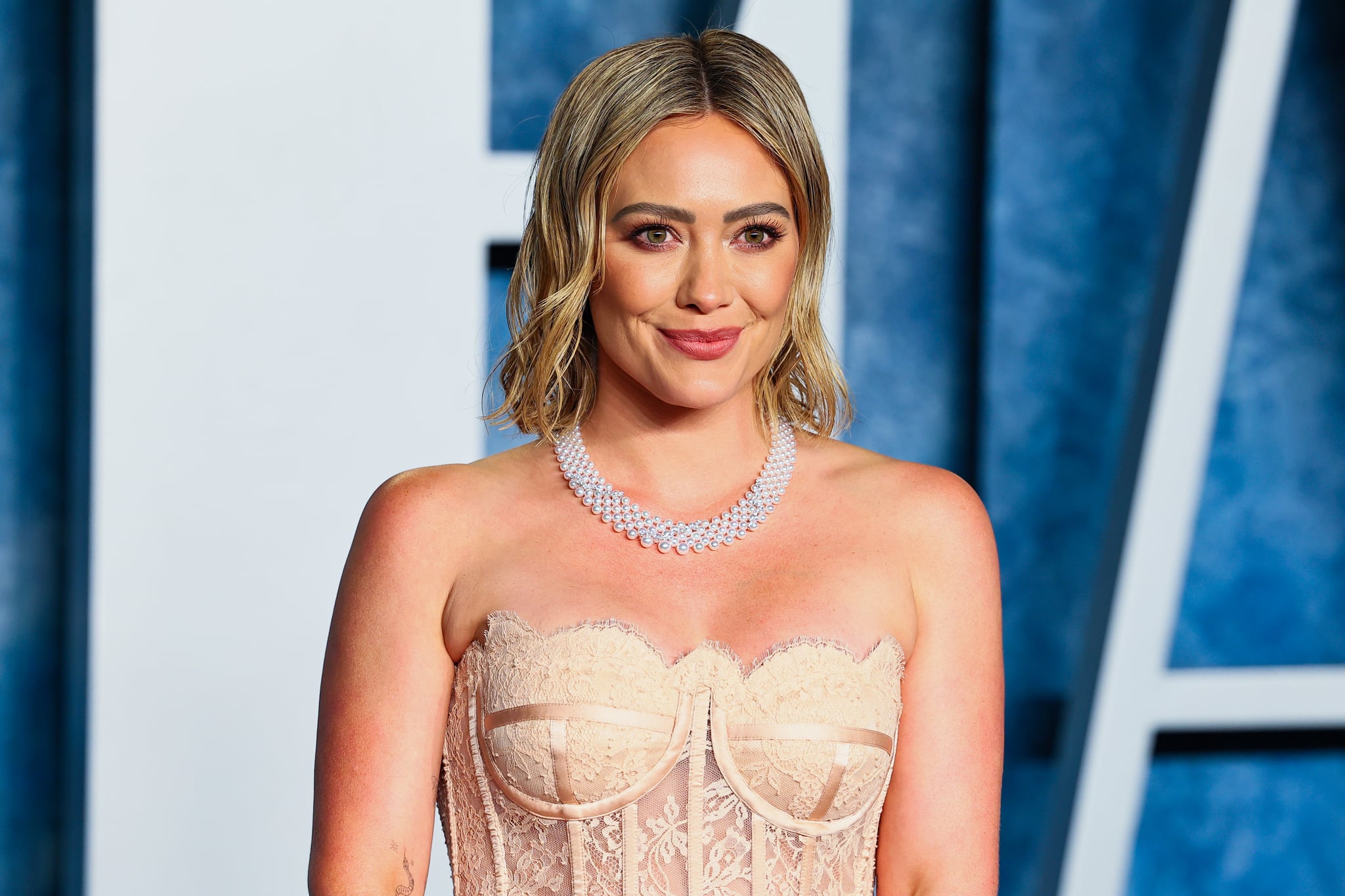 Hilary Duff is facing criticism for making toxic comments about her diet, while sharing what she eats in a day in a recent interview. On the May 9 episode of Molly Sims's Dear Media podcast, "Lipstick on the Rim," Duff, who says she typically "wakes up really hungry," detailed her breakfast in the mornings.
Her go-to options included overnight oats and "super clean" cauliflower rounds topped with various fixings like egg salad, avocado, and vegan sausage. However, she also admitted that sometimes, she only drinks coffee instead. "You know, Gwyneth's been in trouble for saying this, but sometimes I try to just drink coffee in the morning and starve off my hunger," she said.
Sims's cohost Emese Gormley immediately agreed, saying, "We all do it, she just says it." Duff and Gormley were seemingly referring to Gwyneth Paltrow's comments on a recent podcast, in which she shares that she does "a nice intermittent fast," simply drinking coffee in the morning and eating bone broth for lunch. Shortly thereafter, TikTok accused Paltrow of being the "mother of all almond moms," which has become a term used to describe a parent who's fixated on diet culture, "healthy" eating, and body image.
A clip from Duff's interview also made its rounds on TikTok, with fans quickly taking issue with the actor's problematic approach promoting toxic diet culture. "No, we don't 'all do it,' starving yourself isn't cool," one user wrote, while another shared, "Starving yourself is not clean eating!"
As the three discussed fitness and food throughout the episode, they also made other uncomfortable remarks about weight and body image. At one point, Duff shared she would "love to have just the skinniest little pencil arms ever," while Gormley talked about her desire for "skinny twig legs."
In May 2022, Duff opened up in her Women's Health cover story about battling a "horrifying" eating disorder at age 17 due to the pressure she felt to be "skinny." "Because of my career path, I can't help but be like, 'I am on camera and actresses are skinny,'" she said, though she says having her three kids ultimately boosted her body confidence.
Despite Duff's previous empowering comments about her body, we're rightfully disappointed by her latest comments.
If you or a loved one are struggling with an eating disorder, the National Eating Disorder Association (NEDA) has resources available including a 24/7 helpline at (800) 931-2237. For a 24-hour crisis line, text "NEDA" to 741741 or use its click-to-chat help messaging system.