Products You May Like
When thinking of Halloween, it is hard to not feel as though its true expression and celebration has long been lost. In the present time this holiday and many others exist in a space chock full of waves of commercialism, excess partying, and scantily clad attire. Which begs the question: Can we find All Hallows Day again?
I spent the past year living in South America in Colombia, and observed Halloween start to take hold in a country where it hadn't before. As lovely as it is to see the joy that children in any culture take in dressing up, I must admit it has been many years since I have enjoyed celebrating this holiday. (My best-costume-winning years are most certainly long behind me.) Reflecting upon my Halloween experience last year outside of the U.S., and thinking about my inherent love of travel, my mind immediately wants to reflect on a far more vibrant holiday that shares the same date. One that resonates deep within many Latin cultures and families, Día de Muertos.
What is the Day of the Dead?
A far cry from haunted houses, blood and gore, or sexy nurses, this traditionally Mexican holiday starts on October 31, lasts for 3 days, and is in memorial of those that have passed on to the spirit world. Perhaps unsurprisingly, the designer and crystal healer in me is far more intrigued with this colorful festival that celebrates the dead with unabashedly decorative expression. Because its strong connection to spirit energy remains intact, looking toward Día de Muertos as example can give us all some direction in finding tools to combat—and maybe find something different and more personal in—the typical Halloween mayhem.
Using Crystals to Tap Into the Spirit Realm
Crystals represent pieces of nature and history that existed before us and which will remain long after. All ancient civilizations believed in the powerful protective and healing qualities of crystals, and incorporated them as both adornment and strong spiritual talismans that were a part of normal everyday life. We can look to these ancient traditions (which I believe is the true spirit of October 31) to continue to explore those ties to the past and to our lineage. And when we do so by aligning ourselves to the energy that exists within these stones, we find everything from balance and clarity, to strength and interconnectivity—even in the midst of a holiday that has lost its grounding.
When looking at crystals for Halloween, the most important ones fall into two camps: Stones that protect your energetic field (ie: keep you sane), and stones that can help you connect to the spiritual world, to that unexplained energy that we know exists, but we can't see. I often advise to work with different crystals as a recipe—to use them in order. In that vein, first up are protection stones.
Protection Stones
Amethyst
Amethyst is most commonly known as the must-have crystal to use when accessing the 3rd-Eye Chakra and one's intuition. It is unique in that it is multifaceted—it fits into both categories of use, a stone of both energetic protection and of connection. In its protection role, it helps to clear the energy of bad influences and attachments. These can range or extend to a person that you may not feel good being around, or to spirit entities you may, or may not, want to encounter. In its connector role, Amethyst allows the higher mind to communicate with one's guides and angels to tap into one's true inner-self.
Smoky Quartz
This grounding and energy-stabilizing stone is a master at transmuting negative energy. Smoky Quartz protects one's environment by absorbing the energy that needs to be removed. It then transfers that energy into the Earth, which grounds and neutralizes it. It is a stone that would be great for when that Halloween Party or the "festive" energy outside is bit frenetic and out of control and you want to feel more stable. I like to think of Smoky Quartz as a composting system for your energetic body!
Connecting Stones
Calcite
Calcite is a stone that comes in many different colors and types, and all of them are very soothing stones that assist in the movement of energy. Optical Calcite in particular is a stone that can help one enhance their connection to the spiritual world and strengthen their clairvoyant abilities. This connection has the ability to help us release things from the past that we are holding onto, which then helps to remove blockages and increase energy flow and positivity in one's aura. Don't we all want to radiate a positive aura this Halloween?
Danburite
Danburite is a stone that will take you on a journey. A stone of astral travel, it is a positive energy stone that can bring peace to the subconscious self. This particularly high-vibe stone operates on an angelic frequency that allows you to fully open the heart to divine source energy, creating the ability to expand both spiritually and emotionally to honor the true expression of the self. What if we were able to think about honoring the true expression of self as our Halloween costume?
When thinking about stones for the Halloween season, think about using protective stones to shield from a bit of energetic darkness or heaviness. On the opposite end of the spectrum, stones that are strong in their connection the spiritual world ask you to explore both your inner self and the things that exist outside of this realm of recognition. We can use crystals and the energy they contain, to access the lessons or tools that can help us to exist and co-exist in this true merging of our physical and energetic selves, anytime of the year. And I think that would make any human, spirit, or ghosts in this world maybe find a renewed reason to celebrate.
—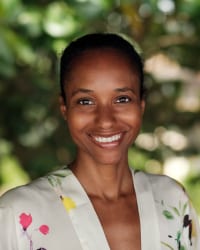 Rashia Bell is a co-founder of The Cristalline. A graduate of both the Fashion Institute of Technology and the New York School of Interior Design, she has spent the past 10 years growing her Design and Consulting company, The Gray Box Group. In looking to gain a greater understanding of the energetic and healing powers of stones and other healing modalities to incorporate them into interiors, Rashia has completed two Crystal Healing certifications from The Crystal Academy of Advanced Healing Arts, is a level 2 Usui Shiki Ryoho Reiki Healer and has completed yoga certifications in English and Spanish. The foundation for The Cristalline's design process is specializing in personal healing work, and Rashia has lead workshops for all ages, private events, and retreats around the world. (Photo by Matt McConnell Photography.)