Products You May Like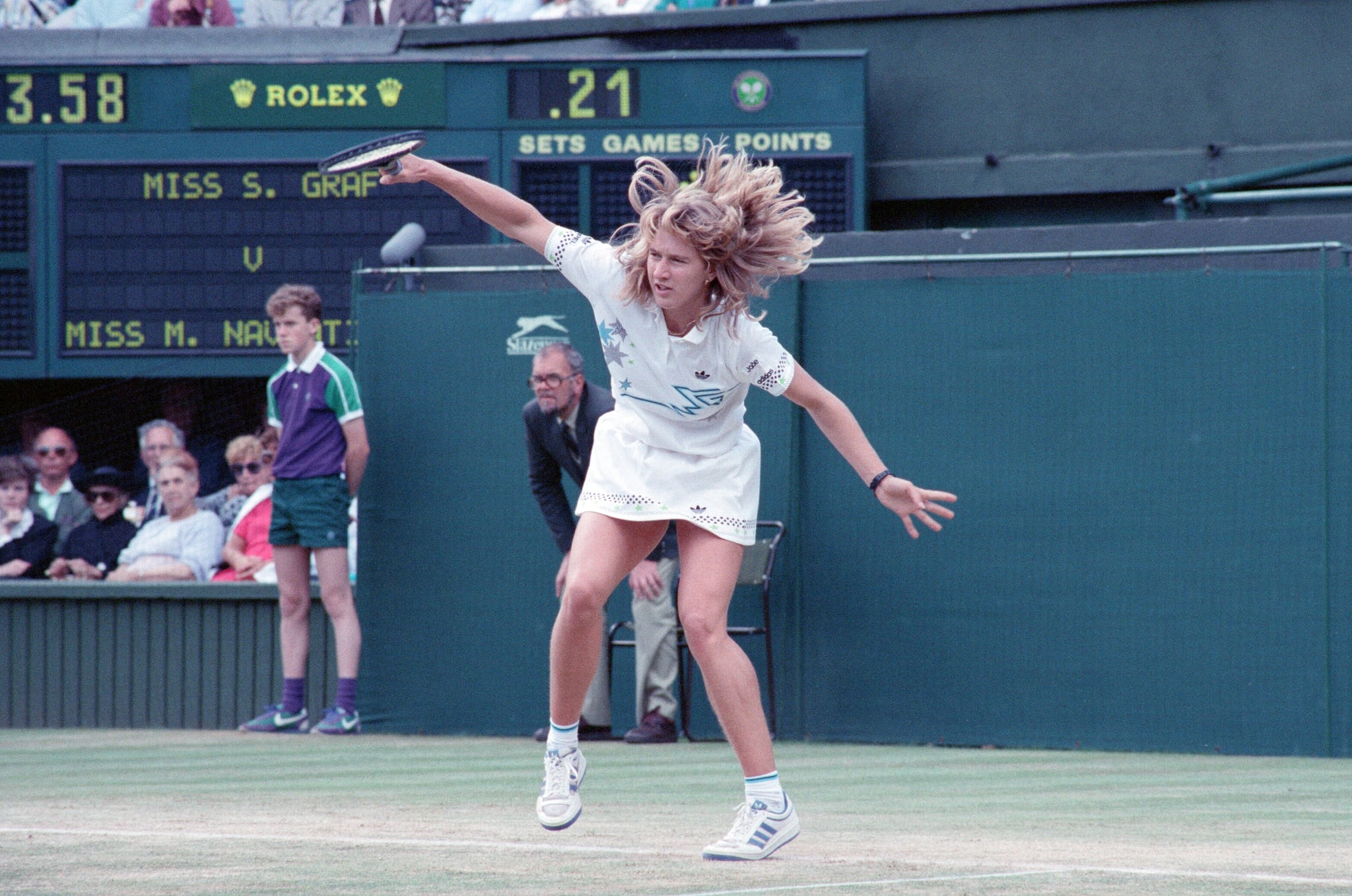 Photo: German tennis player Steffi Graf playing in the 1988 Wimbledon women's singles tournament.
If an athlete claims victory in each Grand Slam, otherwise known as tennis majors — Australian Open, French Open, Wimbledon, US Open — and also wins gold at the Olympic Games or Paralympic Games, that person achieves a Golden Slam, or Golden Grand Slam. It's about as rare as Willy Wonka's golden ticket.
Players Who Have Won, or Could Win, a Calendar Golden Slam
German player Steffi Graf won all four consecutive majors and the Olympics in women's singles in 1988. In fact, she's the first and only player to have ever achieved a calendar Golden Slam (racking in titles at four majors and the Olympics all in the same calendar year). However, American twins Bob and Mike Bryan in men's doubles achieved a non-calendar-year Golden Slam by winning at the Olympics and US Open in 2012, then the Australian Open, French Open, and Wimbledon in 2013. It's been dubbed the "Bryan Golden Slam."
Dutch player Diede de Groot could become the first athlete in wheelchair tennis to achieve a calendar Golden Slam, according to the International Tennis Federation (ITF). She's brought home singles wins at the 2021 Australian Open, the 2021 French Open, 2021 Wimbledon, and Paralympics. The only thing she has left to do is win the US Open this month. It would also mean she'd be the first wheelchair tennis player to claim all four major titles in a calendar year, or called a "calendar Grand Slam," ITF reports.
On the men's side, Novak Djokovic, representing Serbia, was aiming for a calendar Golden Slam, but a loss at the Tokyo Olympics prevented him from achieving that goal. Now, it's up to Australian Dylan Alcott to try to become the first man across tennis divisions to have won a calendar Golden Slam. Like de Groot, Alcott also looks to be the first wheelchair tennis player with a calendar Golden Slam. As for doubles, UK men's wheelchair tennis pair Alfie Hewett and Gordon Reid were aiming for a calendar Golden Slam this year as well, but they didn't make it to the gold-medal match at the Paralympics.
What Is a Career Golden Slam?
A career Golden Slam occurs when an athlete wins each of the four Grand Slams and a Paralympic or Olympic gold medal, though it's not limited to a single year. Andre Agassi, from the US, and Spain's Rafael Nadal have won career Golden Slams in men's singles. Before her calendar-year Golden Slam, Graf claimed a career Golden Slam.
Serena and Venus Williams were able to achieve a career Golden Slam in women's doubles with their 1999 French Open, 1999 US Open, and 2000 Wimbledon titles; their 2000 Olympics gold medal; and their victory at the 2001 Australian Open. Serena then went on to claim a career Golden Slam of her own between 1999 and 2012, clinching it at the London Olympic Games. She was the first tennis player with a career Golden Slam in both singles and doubles. Meanwhile, Alcott secured a career Golden Slam in both quad wheelchair singles and doubles in 2019.
So much golden potential awaits the tennis courts! And we're eager to watch it all play out before us.