Products You May Like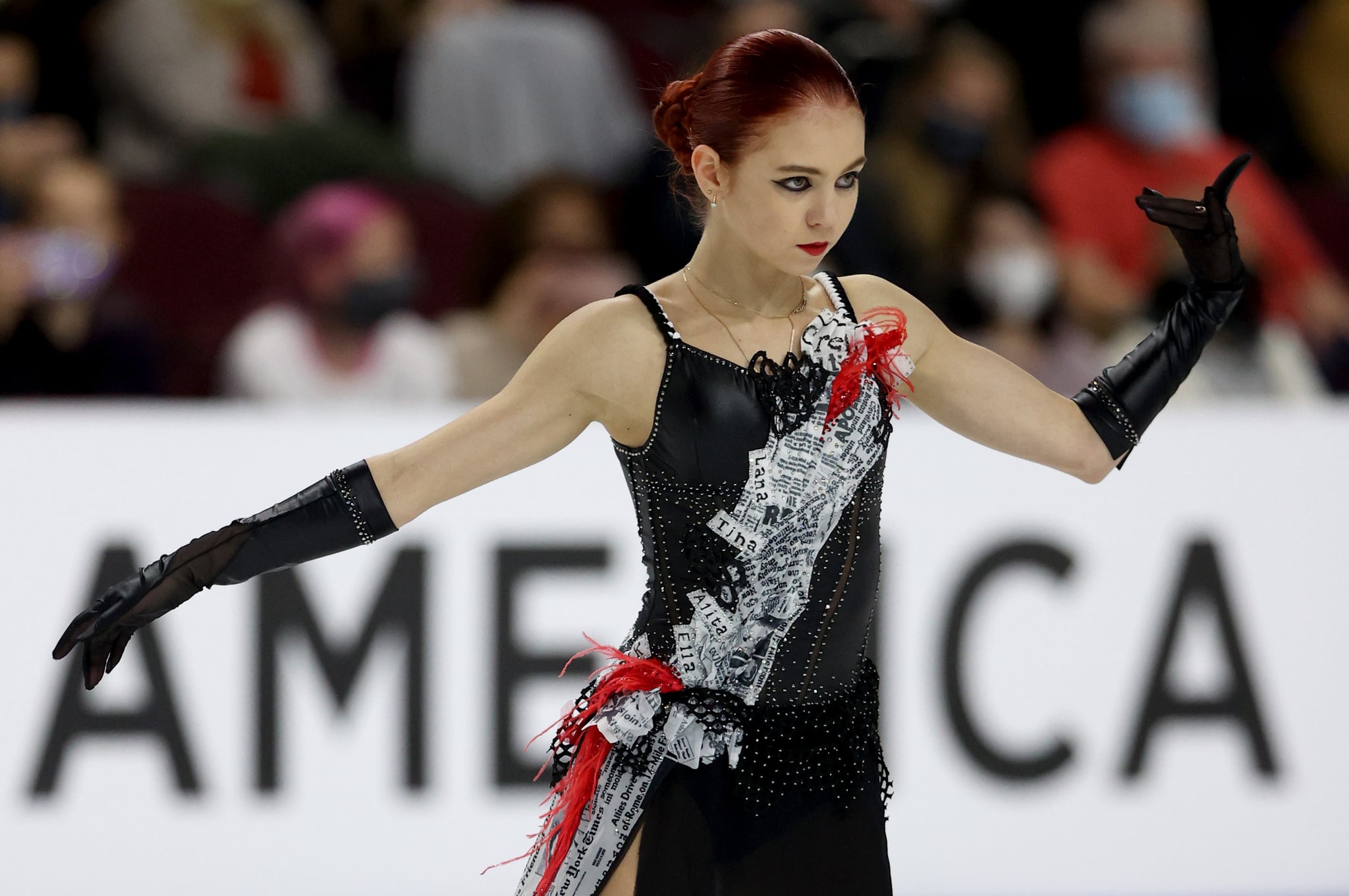 Image Source: Getty / Matthew Stockman
Alexandra Trusova nearly lit the rink ablaze when she embodied Cruella de Vil for her women's free-skate performance at Skate America 2021 on Oct. 24. Clad in a dress adorned with rhinestones, red feathers, and ripped-up newspaper clippings as a nod to the fashionable villain's iconic costumes, the Russian figure skater glided across the ice to a haunting mashup of two songs from the Cruella movie soundtrack: "Call Me Cruella" by Florence + the Machine and "I Want Be Your Dog" by John McCrea.
Though nicknamed the "Quad Queen," Trusova avoided launching into the series of quad jumps she typically attempts due to a minor foot injury she's currently dealing with. Instead, she opened the routine with a single flawless quadruple lutz jump and went on to nail a dizzying array of triple jumps, which is still incredibly impressive. The performance wound up earning her gold in the women's singles competition, with Daria Usacheva of Russia and You Young of South Korea placing second and third, respectively.
Trusova has become quite fond of on-ice homages to badass women through the years. Back in 2019 at the Skate Canada competition, she paid tribute to Daenerys Targaryen with a Game of Thrones-inspired free skate, and she dressed as Wonder Woman for a separate routine at Skate America 2021. Which fictional character will the 17-year-old athlete embody next? Perhaps Katniss Everdeen or Nakia from Black Panther?
⛸ Russia's figure skating star Alexandra #Trusova won the #SkateAmerica Grand Prix & the hearts of fans!

💪 Having sustained an injury, she performed a breathtaking #quadruple jump and… won!

🚀 The Russian rocket scored a total of 232.37 points.

🎉Sasha, you are our hero! pic.twitter.com/TU6IMYlFFJ

— Russia 🇷🇺 (@Russia) October 25, 2021